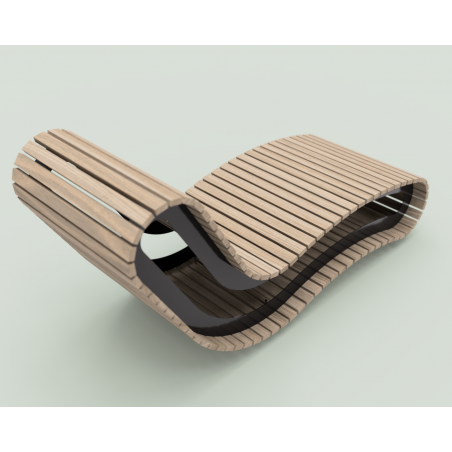  
chaise longue 'vivaldi3K'
2023 is here !
this fabulous new deck chair 2023 - has been redesigned to relax and is now your best choice to read mediate rest or listen to your favorite music 🥰
price includes 21% vat
this comfortable 'kuerv deck chair 2023 k' - is the best we have ever made !
compared to our chaise longue 2022 : the sitting position is more relaxed - occasional reading, scroll the phone or listening to music
perfectly resistant in all weather conditions for years and can be used in humid spaces
the 'kuerv deck chair 2023' is fabricated with european aluminium and thermo wood labeled pefc – and delivered all mounted
nothing can go wrong ;-)
_____
please bear in mind that the slats are brownish at delivery - but they will turn grey under influence of sun light and other weather conditions
that changing of colour has no influence on the quality of our products
if you want to keep the slats brown you can apply every two years a thin layer of tung oil that you can order at 'de Cokerije'
_____
you know that we don't have stock - we'll start building your furniture with lots of love and dedication when we receive full payment
in normal conditions we deliver your furniture at your doorstep within 4 to 5 weeks - if it takes longer we'll inform you of course
relax and lay back while listining to vivaldi four seasons
No customer reviews for the moment.